Results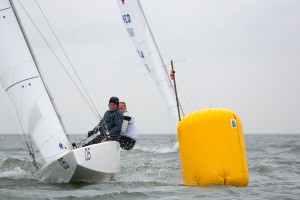 First Race: First race won by Schmidt and Seeberger after that the team from Greece Emilios and Antonios led most of the race. As usual they started at the pin and kept it simple: one tack on the layline and they won the first beat. They repeated this the second beat but the third was one too many. The right side paid off this time and the Greek didn't cover. They went from 1 to 3, Merkelbach and Kleen sneaked in between. Wind South West between 18 and 25 knots, 18 degrees Celsius. The newly formed team of Haico de Boer and Erik Veldhuizen outperformed themselves: second at the top mark and fourth overall. Our American friends lost their second mast. Overall results: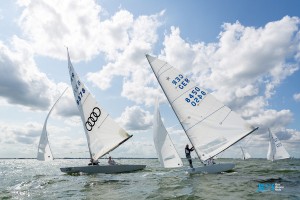 Race 2,3 and 4 were sailed Friday on the East course under great circumstances: wind between 9-15 knots and sunshine. Wind from the South East and a little swell. The right side of the beat payed off most of the time. A pity for the Greek who consistently won the pin end of the start in an impressive way (see the movies on our Facebook page). Haico de Boer led a large part of the 4th race but went too far left in the last beat and finished 6th.
Overall after 4 races: Stars result after 4 races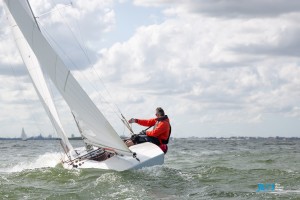 Race 5 and 6 were sailed in light conditions. We sailed the West course area. The Dutch did well today: a first for Sjaak Haakman and 2 second places for Thomas Allart and Ben Kloos. But Hubert Merkelbach and Fritjof Kleen have won the vent with a race to spare. They sailed consistently in the top, had great speed and height. During the downwind legs there was a lot to gain. See the live tracker to follow and replay the races: http://live.starsailors.com/  
Overall results after 6 races: Stars result after 6 races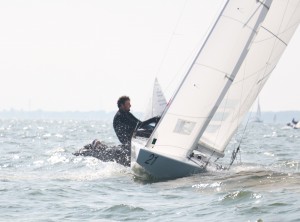 Race 7 was won by Emilios and Antonis from Greece. They went for raw boat speed in perfect conditions: sun, 24 degrees and 15 – 18 knots wind. The jury gave the first penalty for pumping to a Dutch team and our American friends took a great second place after all the bad luck of breaking 2 masts. We look back on a wonderful event that was appreciated by all. The KNZ&RV did an excellent job. Many thanks to all volunteers and Hein Nanninga, our Race Officer and Ellen Visser Board Member regatta sailing KNZ&RV.
Overall and end results: Stars result after 7 races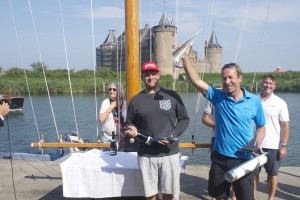 The Eastern Hemisphere Champions 2015 are Hubert Merkelbach and Fritjof Kleen from Germany